Student Information for the 2018 GSDSEF
---
Check this page for updated information! We will be updating Student Information, schedules, and instructions for the Science Fair week. 
Please check out the GSDSEF STUDENT pages for valuable information on producing a science or engineering project. 
---
SCREENING WINDOW HAS OPENED!
Each year in San Diego and Imperial Counties, thousands of students do science, engineering, and computer science projects. After completing their projects, students participate in class, school, or district fairs. From here, the top projects are invited by teachers/advisors to be "screened" to participate  in the Greater San Diego Science & Engineering Fair (GSDSEF).
To start the screening process, students make a Digital Project (Powerpoint or Google Slides) which consists of a title page and 10 information pages which summarize their project. After the Digital Project is submitted, it is sent to Screeners - scientists, engineers, computer scientists, and retired educators - who review the project based on quality. 
Students with projects that are "Recommended" are invited to apply to participate in the GSDSEF. Some students may be asked to modify their project before being "Recommended." Students who are "Not Recommended" are invited to participate the following year.
This process makes sure that projects in the Greater San Diego Science & Engineering Fair are the best possible quality.
PLEASE LOOK ON THE SCREENING INFORMATION PAGE FOR COMPLETE DETAILS ON HOW TO SUBMIT YOUR PROJECT FOR SCREENING AND SCREENING DEADLINES. 
---
2018 Schedule for Science Fair Week
Tuesday, March 13th, 2018— Check in and set up projects (1:00pm-7:00pm), Balboa Park Activity Center (BPAC)
Wednesday, March 14th, 2018— Judging (begins at 8:00am) , BPAC
Thursday, March 15th, 2018 — Awards Ceremony (5:30pm-8:30pm) Air and Space Museum, Balboa Park
Friday, Saturday, Sunday--  GSDSEF at BPAC Open to Public (starting at 10:00am)
Sunday, March 18th,  2018 —  Family Science Day (10:00am-3:00pm); Removal of Projects from BPAC starting at 3:00pm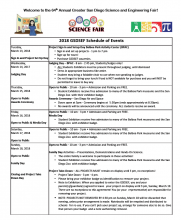 Download the
Information on Parking is coming!