GSDSEF 2019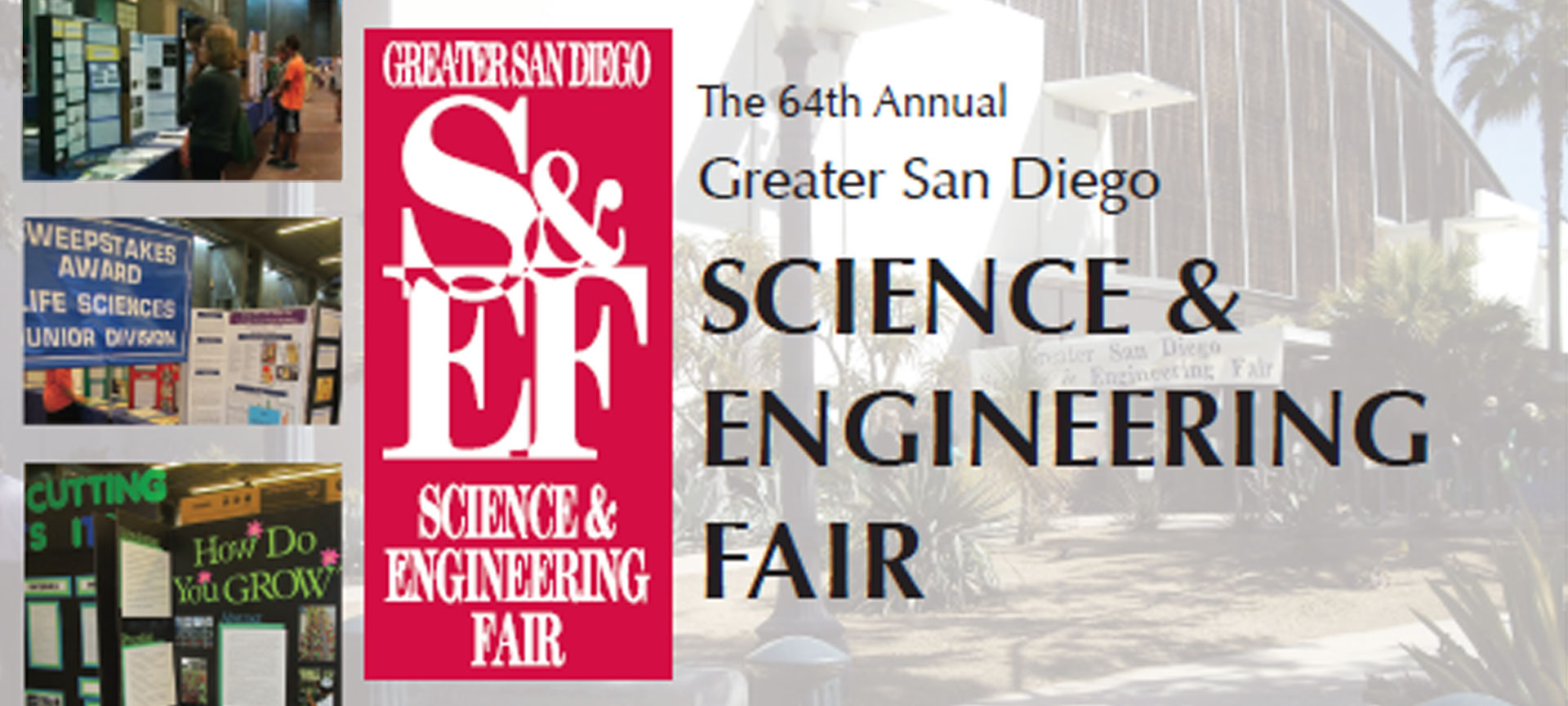 ---
The 2019 Greater San Diego Science & Engineering Fair is now over. 
We thank all of the student exhibitors, judges, sponsors, professional societies, teachers, parents, and volunteers who helped make the 65th Annual GSDSEF a success!
---
Recently updated as of April 1, 2019:
Professional Society Awards:
---
---
We need photos and stories from students for The Science Fair Experience - 2019! 
Our online publication, The Science Fair Experience, is looking for submissions from students, chaperones, and anyone else, especially of the science fair tours. Photos are especially desirable, but short textual accounts of under 200 words would be great, too.  Please send your photos and/or stories to the Contact Us link below by March 31st, and indicate if you would like to be publicly credited for your photos or text. This document will be posted on the website by early April.
---
---
2019 GSDSEF Highlights
In the 65th Annual Greater San Diego Science & Engineering Fair, we had
Over 930 students submitted projects for screening
Over 620 7th - 12th grade Student Exhibitors accepted to participate
18 6th graders participated in the first GSDSEF Sixth Grade Showcase
61 Team Projects in Junior Division (first year allowed) and 14 Team Projects in Senior Division
51 San Diego County Middle Schools and 4 Imperial County Middle Schools participated
23 San Diego County High Schools  and 1 Imperial County High School participated
89 Projects qualified for the California Science and Engineering Fair
60 Junior Division Projects nominated for Broadcom MASTERS
55 Professional Societies gave awards and scholarships
400 judges decided Categorical Place Awards in 16 categories
Over $18,000 in scholarships awarded
(updated March 17, 2019 to include all student exhibitors)
Categorical Place Awards Results:
Junior Division

1st Place Awards - 96 Projects
2nd Place Awards - 130 Projects
3rd Place Awards - 148 Projects
4th Place Awards - 49 Projects

Senior Division

1st Place Awards - 41 Projects
2nd Place Awards - 35 Projects
3rd Place Awards - 20 Projects
4th Place Awards - 4 Projects
Affiliate Fairs Eligibility Lists (as of March 17, 2019)
---
Professional Society Awards (as of March 20, 2019):
2019 Awards Ceremony Presentation slides
Awards Opening and Keynote

Professional Society Awards

Special Awards

Sweepstakes Awards

Junior Division 1st Place Awards

Senior Division 1st Place Awards

Junior Division 2nd Place Awards

Senior Division 2nd Place Awards

 

Junior Division 3rd Place Awards

Senior Division 3rd Place Awards

Junior Division 4th Place Awards

Senior Division 4th Place Awards
---
---