---
SAB WORKSHOP SERIES FOR 2017-2018
"Achieve a Successful Science Fair Project"
2017-2018 SAB Workshop Series Flyer
This year we will be having 2 Workshop III sessions - one in the north county area and one in the south county area!
Friday, March 9, 2018

Workshop III – "Showcasing Your Project – Preparing for a Successful Presentation"  NORTH COUNTY AREA

Congratulations! You've been recommended to enter the GSDSEF! You've analyzed and interpreted your data, and your project is ready. But now you're wondering, "What happens during judging? What do I say? How do I make a good impression?" We'll help you prepare for the judging process, offer advice on presenting and interacting effectively, and take you through a judging simulation. You'll meet and talk with several judges to find out what they are looking for in a successful science/engineering project.

To sign up please go to:

Workshop #3 - North County Area

6:30 pm – 8:30 pm

Westview High School Theatre

13500 Camino Del Sur, San Diego .  92129

 

This workshop is for those who have been recommended to apply to GSDSEF after successfully going through the screening process.
Workshop III – "Showcasing Your Project – Preparing for a Successful Presentation" - SOUTH COUNTY AREA

Congratulations! You've been recommended to enter the GSDSEF! You've analyzed and interpreted your data, and your project is ready. But now you're wondering, "What happens during judging? What do I say? How do I make a good impression?" We'll help you prepare for the judging process, offer advice on presenting and interacting effectively, and take you through a judging simulation. You'll meet and talk with several judges to find out what they are looking for in a successful science/engineering project, and get the perspective from experienced SAB members. BRING YOUR DISPLAY BOARD TO PRACTICE WITH A JUDGE AND/OR EXPERIENCED SAB MEMBER!!! This will be an interactive session! 

To sign up, please go to:

Workshop #3 - South County Area

Wednesday, March 7, 2018

4:30 pm – 6:00 pm

Sweetwater Union High School Theatre

2900 Highland Ave. National City  91950

(Easy access from I 5, I 805, and Hwy 54)

This workshop is open for anyone who has applied and for those who are interested in doing a Science fair project in the future.

If you missed Workshop #3 Preparing for Judging or would like to view the PPT presentation again, go to: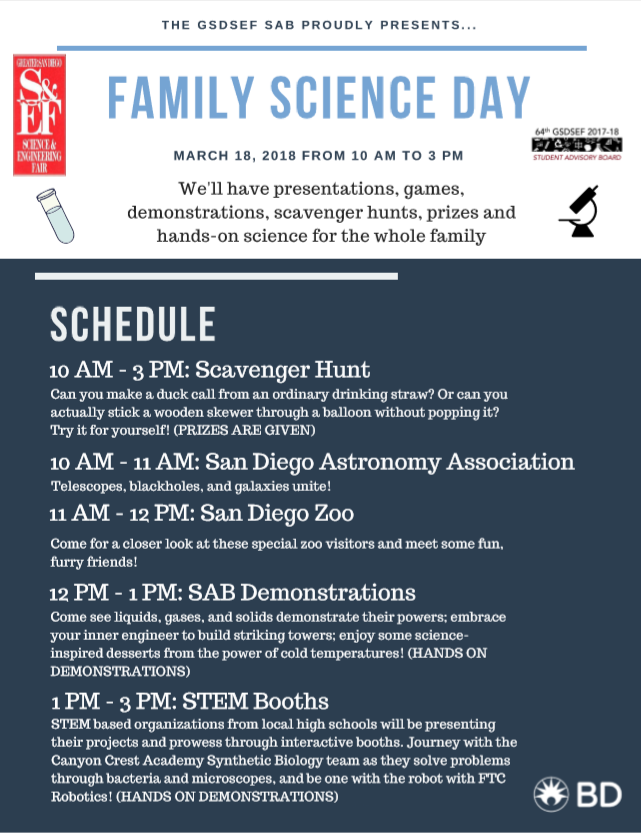 Information on Previous Workshops
Workshop I – "Designing and Developing a Successful Project"

Want to do a science/engineering project and are wondering how to get started? …Need ideas or need help designing your experiment? Join us as we discuss project ideas, the scientific method, getting support from a mentor, and more! This workshop will help you get started on designing and developing a successful science/engineering project! Come and "pick" the brains of SAB members who have experienced success at Science Fairs! Let us launch YOU on the path of science/ engineering success!

Saturday, October 7, 2017

9 am – 11:30 am

San Diego County Office of Education, Room 304

To sign up, please go to:

 

If you missed Workshop 1 or would like to view the PowerPoint again, go to:
Workshop II – "From Data Analysis to Display – Creating an Impact"

Now that you've started your science/engineering project, what's next??? Do you need advice on experimental design, analyzing data, putting together your notebook, or constructing your display? We'll answer these questions and more! We'll also go over the NEW screening process to enter your project into the GSDSEF. Plus, you can check out sample science fair displays and notebooks from previous GSDSEF winners to ensure your project is a success.

Saturday, December 9, 2017

9 am – 11:30 am

San Diego County Office of Education, Room 401

To sign up, please go to:

If you missed Workshop 2 or would like to view the PowerPoint again, go to: